Improve Your Business
How We Can Help You:
MAKE MORE MONEY: We provide you the tools and content aimed to attract your dream clients so you can experience more financial freedom.
RISE ABOVE COMPETITION: We know how to identify the benefits you bring to the marketplace, highlighting your value using exceptional design and convincing messaging.
GAIN CLARITY AND VISION: If you're feeling stuck, lost, or frustrated, we can help you gain clarity in your business, marketing, and messaging.
EXPERIENCE QUALITY: We excel at providing quality technical services, eye-catching graphic design, and enjoyable content that converts your potential clients into paying clients.
BE EMPOWERED: We provide you the tools and services YOU need to help you reach your exact goals make your business thrive.
UTILIZE EXPERIENCE: From startup business to established companies, we have worked with different sized companies from a myriad of industries and know how to approach projects of many shapes and sizes.
FEEL AT EASE: We pride ourselves at being organized project-managers and know what it takes to be efficient, communicative, and responsive throughout the project.
GET BUSINESS NEEDS MET: We understand business and value your goals, keeping them in mind throughout the project so you don't have to.
SAVE TIME AND MONEY: Save time and money by coming to our one-stop, full-service design/marketing firm where we know how to plan, design, and implement your website, design project, and marketing tactic all under one roof.
Why Choose Sara and Rob Zimmerman?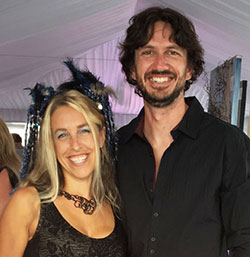 You have 3 seconds to make an impression to your potential clients. We offer quality graphic design, website design, web programming, marketing and business consulting as an experienced, full-service, boutique marketing and design firm who is committed to quality and excellence. Let us help you attract the clients you want and get the results you desire.
We are a wife and husband team committed to providing the best for our clients, based in the Truckee – Lake Tahoe area. We are enthusiastic about helping people improve their lives and go after their business dreams. We are excited about your business goals and how we can create branding, marketing, logos, and a website to help your business improve so you can have the life you want to live.
Our Design Process:
We work hourly on all projects and can add whatever services you need to help your business grow.
For larger projects for clients who want to attract their ideal clients and need help developing and implementing each step, our design process generally looks like this:
PLANNING

help you identify your business goals and needs.

LOGO AND BRANDING

create a clean, contemporary logo and branding specific to your business.

WEB:

create a responsive, content management website that fulfills the needs of your business and represents your business as a whole on the internet, integrating quality programming, graphic design and content aimed to get you more clients;
integrate several search engine optimization and marketing objectives into your responsive website;
add extras to your site that help you grow your business, such as lead capture systems, eCommerce, registration options, calendars and more.

MARKETING

create a marketing plan aligned with your goals and objectives for 6-12 months;
craft messaging specific to target your dream clients;
write enticing content and design eye-catching print marketing collateral, such as business cards, postcards, brochures and more;
develop a diverse web presence, including creating a comprehensive profile on many social networking sites
provide clients with a monthly marketing plan, including creating ads for magazine, posting to social networks, writing blog posts, creating mailers for new products, writing press releases and submitting to newspapers, and much more.
We work with you to learn how you want to grow your business and what design and web services can best help you attain your business goals. You offer something special to your clients so it's time to show off your skills and perspective to your audience. Let us customize and align your project to your actual goals versus selling you something you don't need. Of course, we are always happy to help with any individual specific aspect you need assistance with so please just ask.
What Services We Provide:
For most projects, we do 100% of the work. For larger projects, we sometimes also work with some incredible programmers, search engine optimization gurus, content writers, photographers, and editors in the US West Coast region.
Throughout the life of the project we wear many hats, including: