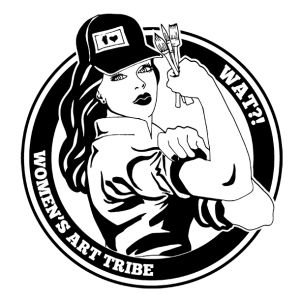 Women's Art Tribe Fundraiser 12/15/16
for the High Fives Foundation
What happens when two artists, with two different styles, co-create live?
During an exciting 4 hour live painting event on December 15th, 2016, I (Sara Zimmerman) and muralist Sara Smith, simultaneously and collaboratively painted an 84"x 64" abstract-turned-landscape painting, using an intuitive painting process. The finished work will be auctioned off to benefit the High Fives Foundation.
Time-Lapse Video of Painting Live:
Time lapse video showing how 4 hours of collaborative and intuitive painting works by Sara Zimmerman and Sara L Smith. Video by Justin Majeczky/Varient3 Productions.
How it Worked:
Together, Sara Smith and I painted in front of a live audience at Tahoe University in Truckee, CA, merging our styles as we worked in abstract ideas and incorporated randomly selected artistic challenges throughout the first 2.5 hours. Some of the art challenges that were chosen included "paint with left hand" and "guest artists" where several guests joined us to paint using an intuitive painting process. In the last hour and a half, we pulled together the final painting to create an image of Squaw Valley, home of the 1960 Olympic Winter Games, a symbolic skiscape for mountain sport athletes. The day was a great success, bringing the surrounding Lake Tahoe – Truckee community together in a creative, collaborative spirit.
Final Artwork:
The final artwork "Squaw Valley: Creative Evolutions" will be auctioned off as a fundraiser benefitting the High Fives Foundation, a non-profit organization dedicated to providing resources and inspiration to mountain action sports athletes who suffer life altering injuries.
Special Thanks:
Special thanks to the following people who helped make this incredible day happen:
See the article on The Huffington Post.
MORE:
Women's Art Tribe:
Women's Art Tribe (WAT?!) was formed for the December 15th, 2016 live art painting event benefiting the High Fives Foundation with the notion that the idea of women co-creating through fear can inspire others to do the same.
Why:
Change can be frightening, especially after a life-altering event, such as sustaining a mountain sport injury. This is where a creative mind comes into play. As creators, we have a choice as to how we approach the challenges we are faced with. Truckee artist, cartoonist, web/graphic designer Sara Zimmerman, and Truckee-Tahoe artist and muralist Sara Smith show how they, as artists, use their creativity to help them push past their own fears and attachments as they worked collaboratively to create an original art work of Squaw Valley during this live art event.
Poster from the event: