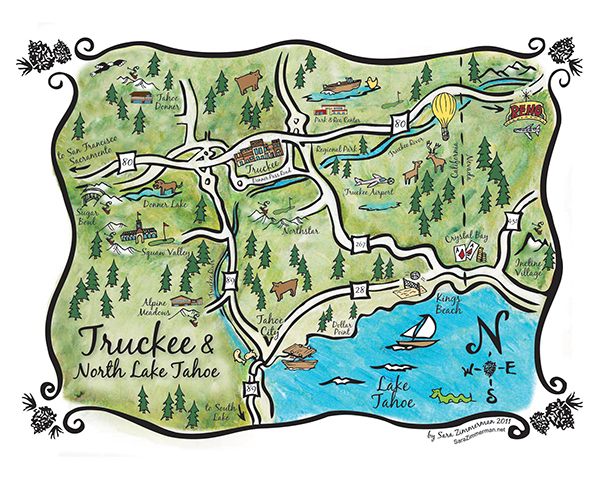 Illustrated maps make for a fun addition to any wedding or event. You can choose from using my existing maps or choose for me to create you a custom map. Please note that either use has a minimum fee, so please be prepared to spend at least a few hundred dollars.
Illustrated Tahoe Map:
If you are getting married in North Lake Tahoe or Truckee, you can choose from a full color or black and white North Lake Tahoe/ Truckee map that has been already designed. There is a minimum licensing fee for using any map that is already created.
Custom Full Color Wedding Map
Custom illustrated maps make for a fun and memorable gift as a tote bag or map for your wedding guests. Maps can be drawn for any location, as well as be created into save the date cards, added as postcards into hotel guest bags, made into magnets, added as a map for the invitation, and more.
Feature the locations you and your guests will visit during your wedding celebration with a chic, custom illustrated wedding map.
Full color custom designs incorporate whimsical and hand painted designs by contemporary California artist, Sara Zimmerman. Starts at $300 (includes 5 major landmarks + 2 changes).
One color custom designs start at $250 (includes 5 major landmarks + 2 changes).
Once your map has been finished, turn your map into a chic tote bag, a save the date card, invitation map, or cute keepsake magnet. (Please note there are printing fees for this).
Payment and Ordering
A 50% deposit is required to upon placing the order; remainder due upon receipt. Credit cards accepted via PayPal.
Turnaround for custom maps is ~3 weeks; full color printing on bags is 4-6 weeks; single color printing is 4 weeks.
Please provide this information:
If you are interested in licensing an existing image or Tahoe map, or getting a custom map created, please contact me and provide the following information:
What area are you looking to have the map drawn of or would you like a Tahoe map?
How many landmarks do you wish to have on your map, such as buildings, places of engagement, detailed areas, etc?
How many bags/postcards are you looking to print?
Are you looking for a simple bag (book bag style) or a gusseted bag with special handle, etc?
Do you want a full color print or a single color print (single is less expensive, fyi)
When is your wedding?