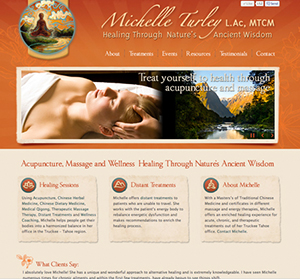 Michelle Turley, LAC, one of my long-time clients, recently told me she is busier than ever in her Truckee acupuncture practice. She said she is receiving calls from all over and getting new clients from as far as several hours away. I asked Michelle how her new clients are hearing about her and she remarked that it has been through her website. Michelle adds: "My new clients keep saying that my website is the only professional acupuncturist site that comes up in their search results and therefore they are choosing me."
Just having a website will NOT get you the results you want. A do-it-yourself website or a cheap website created by your "buddy who knows web design" will not make your company stand out among competitors, nor will it perform the way a modern site should. A website needs a professional look, easy-to-use navigation, search engine optimization, call to actions, and more.
If you are thinking about developing your first website or redesigning an existing website, contact me to see why a good site design both on the front end and back end can make or break your business.