Sharon Oakley creates rugs and other beautiful fiber arts for herself. She contacted me when she came across my Creative Heart art piece, asking if she could use it as inspiration for a pillow she wanted to make.
Sharon took the Creative Heart, and "hooked" the design, making it into a 12″ pillow with recycled contents. The background is made from raw fleece, recycled wool clothing, silk fabric (torn into strips), and yarn reclaimed from sweaters found at her local used clothing store. This beautiful pillow also includes various hand spun yarns and kid mohair. Nice work, Sharon!
Below (left) is the Creative Heart piece; below (right is the final piece).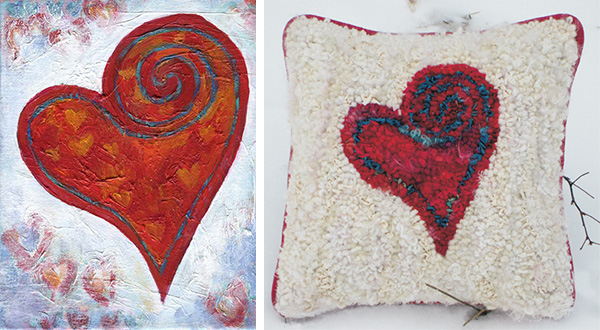 If you are inspired by a piece of my work and want to create something for personal use, please contact me.